This weekend hosts a lot more than UFC Singapore on Fightpass for those who are unaware! Cage Warriors is headed to

Belgium

with its biggest off home soil card of the card of the year! 
Featuring Some of Europe's Best and brightest as well as some top talent outside of the UFC. Headlining is Cage Warriors latest prospect in Jack Shore (He is being compared to Conor McGregor in many ways). Conor having been a previous Cage Warriors champion, Jack too is young brash and perhaps most impressively undefeated! He is 12-0 as an amateur and 6-0 as a pro coming into the main event.
The Co-Main features a name many old school MMA pundits will know in Tommy Depret, a tough hard nosed bruiser, known for some great fights and putting on some amazing fights.
Then we move one more place down into the cards depth and this is where we stopped to take time out to do an interview. Where Invicta/UFC and WMMA pioneer Cindy Dandois takes on Kerry Hughes out of Paul Daley's team Semtex gym.(I also highlighted what I felt are going to be some great matches to watch in green)
Eleven Sports proudly presents Cage Wariors 89
This Belgian MMA event, which will be the first Cage Warriors event held outside the UK and Ireland in 2017, will take place in the Lotto Arena in Antwerp. Cage Warriors 89 will include a mix of local and European fighting talent, giving the Belgian MMA fans the opportunity to watch the best MMA action on the continent.
Eleven Sports will also carry the event exclusively live, not only in Belgium, but also in Luxembourg, Poland, Singapore and Taiwan.
The event will also be available via BTSPORT and UFC FightPass!
UFC – Bisping vs Gastelum
Nov 25, 2017 7:00AM ET
Followed by:
Cage Warriors 89 – Amoussou vs Steele
Nov 25, 2017 3:00PM ET
Main card
Jack Shore vs Ayton De Paepe (featherweight bout)
John Maguire vs Tommy Depret (welterweight bout)
Kerry Hughes vs Cindy Dandois (140 lbs catchweight bout)
Dominique Steele vs Karl Amoussou (Cage Warriors welterweight title)
Nills Van Noord vs Mauro Cerilli (heavyweight bout)
 Undercard
Mathias Lodahl vs Sameer Alekozai (featherweight bout)
"Massai" Sant'anna vs Artur Szczepaniak (welterweight bout)
Leon Jansen vs Jan Quaeyhaegens (welterweight bout)
Aiden Lee vs Donovan Desmae (lightweight bout)
Chico Martinez vs Ben Dandois (middleweight bout)
Prelims Amateur Undercard
Robin Put vs Anthony Lambrechts (welterweight bout)
Senol Yazici vs Musti Brika (featherweight bout)
Jens De Vries vs Youssef Addib (featherweight bout)
Nurullah Sikier vs Kevin Michielsen (featherweight bout)
Sean Teirbrood vs Danilo Martinez (lightweight bout)
Kim Chrestensen vs Viktor Stassijns (welterweight bout)
Tomek Langowski vs Luigi Da Costa Gomez (welterweight bout)
Andy Van Leuven vs Geoffrey De Leenheer (bantamweight bout)
Danny Hogeling vs Imrane Lamkaddam (middleweight bout)
Steve Buyse vs Jordy Bakkes (featherweight bout)
Alain Neder vs Viskan Makaev (middleweight bout)
Our Interview with hometown favorite, Cindy the "Battle Cat" Dandois
Ok Cindy, before we get to your fight this weekend. We saw some rather big long term news where, you have recently had your daughter Victoria win her 1st MMA match!
Obviously Vicky along with your other kids has grown up surrounded by the sport and has seen all aspects of it. As a mother and corner for her , how did you feel watching the fight?
Be prepared @InvictaFights … Cause in maximum 2 years u Will be adding a New Belgian talent to your flyweight division! @vickysabbar 👌🏻 pic.twitter.com/uCjOMdRfuG

— Cindy Dandois (@DandoisCindy) October 23, 2017
I was more excited And nervous than if I fight myself. I've seen her training And working so I knew She was ready.

But still it was my little girl fighting with the woman So of course I was excited And proud at the same time.
And for Vicky: can she explain her feelings about the fight and what it means for her and what her goals are in the sport?
Is she planning this as a career?
Is it simply Something she enjoys the competition of?
Or is she just taking it one step at a time and enjoying whatever unfolds keeping all options open?
I am So happy i finally started with  competing real mma. I am even more motivated now I've had a taste of the real thing. It made me hungry to fight more… My goal is getting further in mma than my mom 🙂

I wanna prove to the world I am her real daughter, And blood has nothing To do with it!

Its a hobby And a passion of course, But I am in a mission. I want To be the best. I hope to get into Invicta and fight in the US when I am About 19… So i have two more years to grow and make it. I believe in my dreams, and I know I can do it… As my mom showed to me… if you can dream it, you can do it. I couldn't have had a better role model to show me.
Can Vicky give us a walk-through of her 1st camp and fight experience?
It was a short fight. The moment the bell rang my opponent started banging. I answered of course with strikes back. We got to the ground and she got to side control.

I think she was physically stronger. But my mom told me to keep calm and move my hips. I got away and we got back up. She tried to hit me and I kicked her, then she tried to run me into the cage.

She made the mistake to put her head on the outside while attempting a take down. So my mom told me to Get the guillotine, we practiced that a million times… I reacted immediately and I was able to secure the submission cause I had that guillotine deep on the way to the ground. She had To tap. 
Thank you Vicky, Congratulations on a great start to your career! You are already taking after your mum! FAST WINS BY SUBMISSION! It must be a family secret!
Cindy your fight against Kerry "rock steady", is in your hometown, Antwerp on UFC Fightpass (Cage Warriors) and BT-Sport and looking at the card, it appears to be most of your gym "PerfectTeam" vs a lot of Europe's top talent. Is this deliberate?
Was this something the promotion deliberately decided or did it just work out that way?
*

Undefeated Jack Shore will be testing himself in true international shores fighting in the EU.
My brother was the first contact with Cage-warriors to make and promote the card. The fact is that most talent in Belgium is and trains in our gym. So he tried to Find other pro fighters in other gyms, And Also amateur fighters. During preparations a lot of outside fighters got injured And its just easier to use your own guys to replace when there are fall outs. 
As I imagine you will be selling out a lot of the tickets for the stadium just on your hometown name alone?
So the cat is out the bag… this awesome lady and I are gonna dance together november 25th! @CageWarriors @Rocksteady 👌🏻#WMMA pic.twitter.com/IYSxS67azZ

— Cindy Dandois (@DandoisCindy) September 29, 2017
Well we are a gym located in Antwerp! That's where the event takes place. So That's Great for the fans who come out to watch! It is so close!
I am sure it's no secret you will want to get the fight to the ground at some point as this is where you have your best finish rate.
But I know you have been working very hard on your stand-up game, do you plan to integrate this or is this something you can't really tell us yet?
I can tell you the same thing as always. I am going to be and do me. 
LOL!
I knew that answer! So no strategy secrets? Just a Disney princess who likes to get her claws out in the cage! No more hints?
Also I expect to get into deep waters with this opponent… As I know Kerry is a legit and very strong fighter.
i have heard she is renowned for her toughness, I guess you don't get the nickname 'Rock Steady Rhino' without showing you can take it as good as you can dish it out!!!!
Well maybe you can give us some clues about your "theme" for the fight?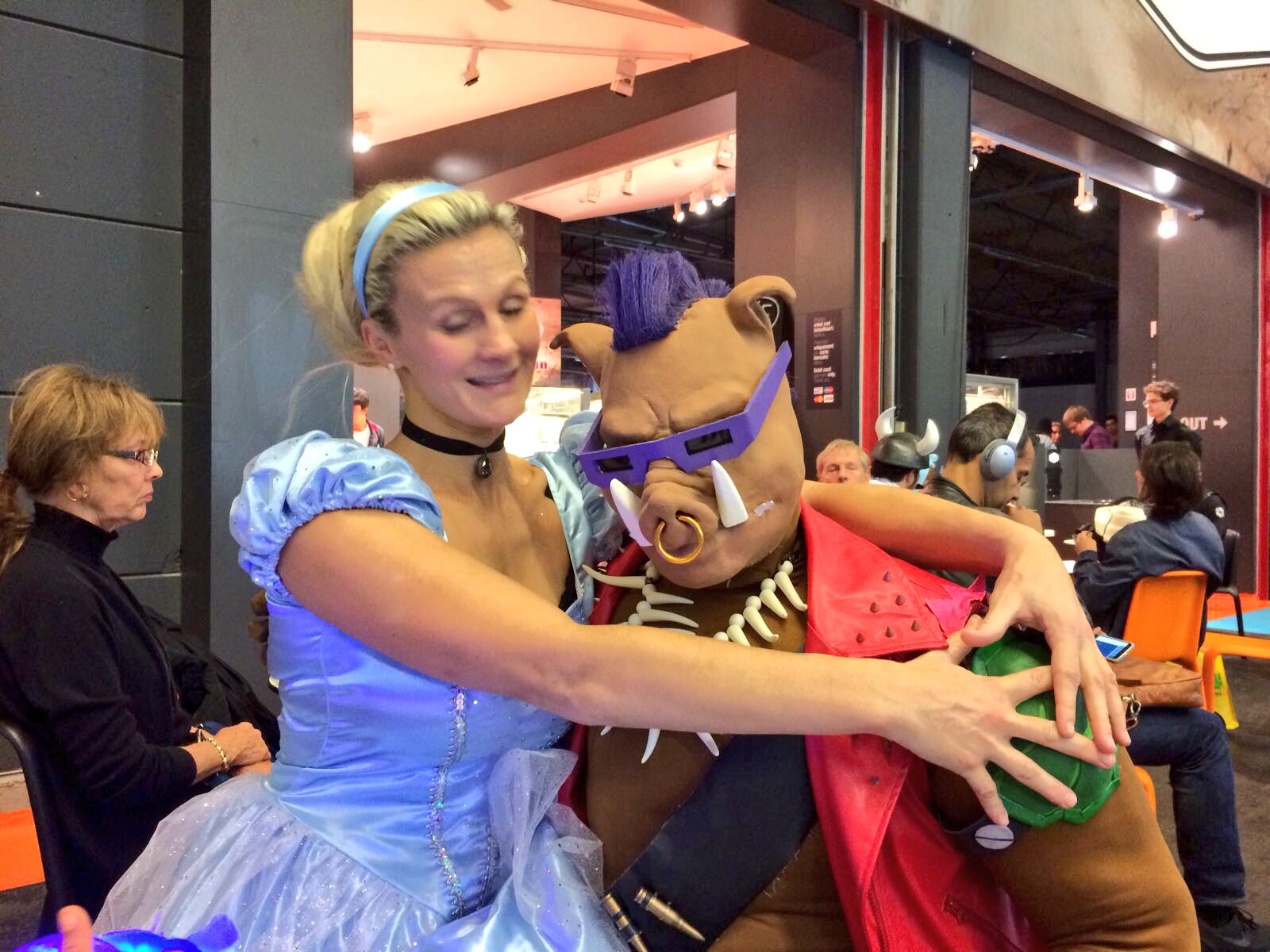 We all know Cindy is the Disney/DC theme Queen! AND for those unaware this usually means a costume with a 'message based theme' from the story or movie, and a 'little' while later we find out what character from the fight theme she ends up with.
As a brand new tattoo is placed somewhere on her as a reminder of the event but also the training and dedication put in to be in a position to deliver her message to so many….
Personally I'm still waiting for Harley Quinn! Not sure what that message could be exactly but it would be a fun one!
So any clues for us to guess what you will walk out as this time?
For sure… I might change my hair colour this time…
We will do a separate interview on your recent RIZIN fight announcement for the fight at 155 pounds vs the Light weight King Reina! But bringing this fight and your new years Eve Fight together, are you finally moving up from the 135-145 bouncing around weight classes, and looking towards 145+ as a more permanent move?
Having know you for years, personally I think less weight movement is much better. And a GREAT thing for you, I love you at 145 plus! It seems more natural, and to me seems like you move faster than the other girls in that class for the size.
Although I know getting fights is not always easy and has been VERY hard for you in the larger weights. What are your thoughts and aims with this?
What weight do you plan to stay if you have a choice? 155 with more muscle? 145? 150 and be able to do both?
Well look at this!
The PRINCESS is taking on the KING!
THAT'S A FIGHT!!!@DandoisCindy vs @reina01707221

Battle of the CROWNS!!!
👑👑👑👑👑👑👑👑👑
👸👸👸👸👸👸👸👸👸 pic.twitter.com/Uhbq9Pi1pt

— LUBMMA – FighterDoJo (@LUBMMA) November 17, 2017
And don't say I just want to fight! LoL I KNOW THAT ANSWER already! 😁😁
Everybody knows I want to fight as MUCH as possible. So that's why I bounce in between weight classes. Although I hope this will be my last cut To 140 or 135.

I hope to be able to compete 145 or YES even higher. I am getting at an age I want to enjoy my sport.

And I love it more, and I can train better when I am not worried about weight all the time. So no more 135 for me please…

If I don't need to, I won't!!! 
Thank you for taking the time out of your busy media week Cindy! And best of luck to you and the entire gym this week!
I hope everyone enjoys the show on UFC Fight Pass!
2 MMA cards in one day! That's a lot to be thankful for this weekend!!!